St Patrick's Day Toddler Craft
After seeing the heart toilet paper toddler stamp on pinterest I immediately went into the bathroom unraveled the rest of my toilet paper roll, turned it into a heart and did a stamping project with Rand.  Today I was thinking about what to do for St. Patrick's day and realized that a shamrock is nothing more than 4 hearts put together!   This was a lot of fun and I never cease to be amazed at how much can be done with stuff that normally is thrown away.
St. Patrick's day is pretty special to me because it's the day after my birthday, so I'm glad that I was able to come up with something fun and easy to celebrate with.
Taped together some toilet paper rolls  that had been cut in half to make a shamrock shape
Let him have his way with it
It made a really lovely print but I felt like I wanted something more on the paper so..
I cut up some toilet paper rolls into small strips and had rand paint them green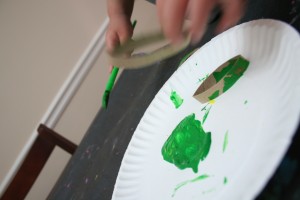 And then glued them to the paper to make a shamrock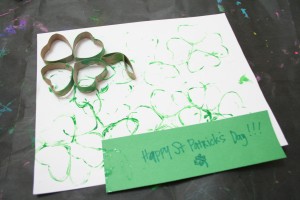 My finished project.  I wish I was better at scrapbooky stuff so that I could make something fancier, but I still love it and it's going on Rand's kid art wall regardless =]