Mascot Monday – How-to: Pug Ornament (Free Pattern)
In preparation for the holidays, I'm doing a Mascot Monday, where I will post up an instructional PDF once a week on how to do a simple mascot ornament gift.  Last year for Christmas I made one for each of my friends and they were very well received, so this year I'm offering everyone these instructions so that everyone can enjoy them!
This week's ornament: Pug
Sadly, I recently changed computers so I've lost almost all of the photos i had of the actual mascots once they were made, but hopefully you can imagine all the mascots from the few pictures that I do have
Supplies Needed (all the supplies can be used for multiple mascots):
4 Pieces craft felt in different colors (I used tan for the body, brown for the accents, white and black for the eyes and nose)
1 Tube crazy glue
1 Spool of coordinating thred
1 Package of stuffing
Step 1: Download & Print PDF Instruction Sheet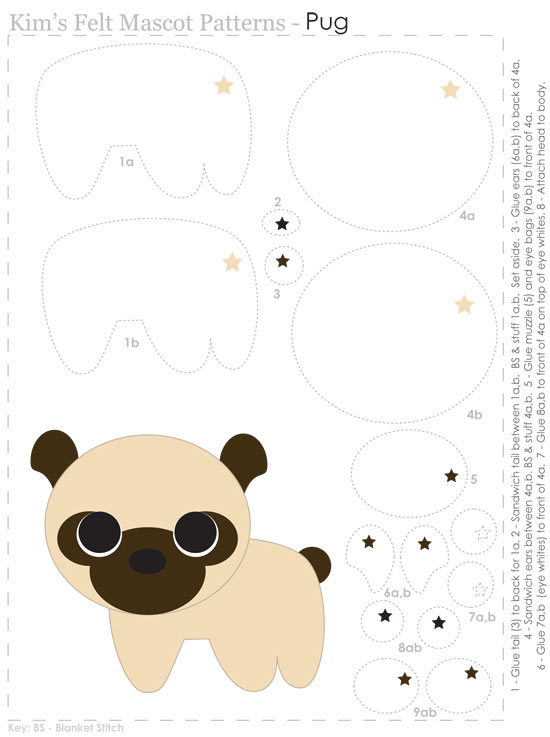 Step 2: Cut out the shapes of the paper pattern
Step 3: Use the paper shapes to cut out your shapes in felt.  I like to tape the shape onto the felt with scotch tape  so that it's easier to cut.
Step 4: Follow the instructions on the guide:
Glue tail (3) to back for 1a.
Sandwich tail between 1a,b. BS & stuff 1a,b. Set aside.
Glue ears (6a,b) to back of 4a.
Sandwich ears between 4a,b. BS & stuff 4a,b.
Glue muzzle (5) and eye bags (9a,b) to front of 4a.
Glue 7a,b (eye whites) to front of 4a.
Glue 8a,b to front of 4a on top of eye whites.
Attach head to body

Download: