12 Awesome Backpack Tutorials & Patterns
I've been looking for a new diaper bag — not because I don't love the one I have right now, but because I like variety in my life.  At one point, I was thinking about making my own, and in that  quest I ran into these awesome patterns/tutorials.  There are so many free tutorials out there, but really only a few that I personally liked — so I narrowed down to my favorites.
Basic Backpack Tutorials & Patterns
This bag is cute, modern and professional looking.  I love that it's made in oilcloth — easy to wipe messes off!
Everyone needs a simple string backpack from time to time.  This tutorial is simple, clear, and has nice finishing touches like grommets to link the loops through.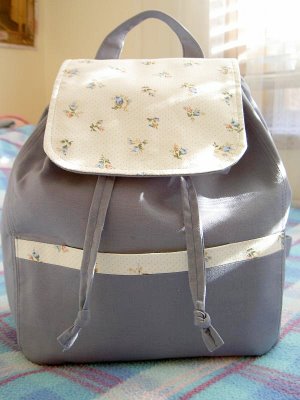 Another cute backpack
Link
Designer Backpacks Tutorials & Patterns
These patterns are not the traditional backpack! So stylish
This is awesome and I want one for myself. Now.
This mistake ended up becoming an awesome and trendy project!
This backpack is just too adorable! I love the button.
Creative Backpacks Tutorials & Pattens
1 word: Awesome.
This is just about the most creative backpack I've ever seen.
Adorable Paid Patterns